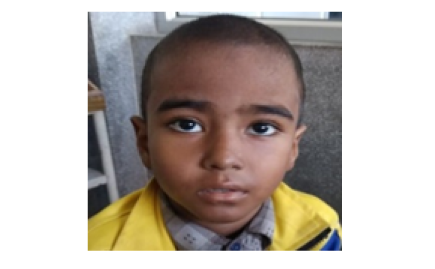 19 Mar

Acute Leukemia lymphocyte Treatment of Mr. Sumit Kumal

Mr. Sumit Kumal, 11 years old boy from Salyantar-5, Dhadhing was suffering from Acute Leukemia Lymphocyte (ALL). While children at this age are playing and studying, his father Mr. Gakul Br. Kumal and mother Mrs. Bimala Kumal were worried about their son's future. Initially, some sickness symptoms were seen in their child. They went to their near hospital for a regular checkup. Later, they found their child was suffering from ALL(Acute Leukemia Lymphocyte). They were suggested to have their child's treatment with the senior doctor at Kanti Bal Hospital, Maharajgunj, Kathmandu.

Sumit's father is a labour. He is the only income-generating person in the family. He supports his family based on his daily wages work. Obviously, it was hard to tackle the economic burden for his son's treatment. However, hats off to his dedication. His determination was more than his present financial condition. He took a loan from his family and friends to visit the doctor in Kathmandu to start the treatment. Child Cancer treatment costs lots of money. It takes years to get cured.

This involves dedicated time for regular doctor visits, medication, and a good diet. This all involves good financial resources. For people with a financial condition like Mr. Kumal, it's almost impossible to coverup.This has also been one of the reasons, lots of children like Sumit coming from the poor financial background are not able to complete their treatment, even though cancer can be cured.

At Kanti Bal Hospital, experts after the examination knew that it was going to take a lot of time and money to fully cure the patient. Looking into the Kumal's family status, they immediately figured out that the family was in no position to fund their child's cancer treatment completely. The hospital authority recommended the Kumal family to contact Ramesh Gupta Memorial Trust, who provides financial support for the child cancer patient.

At Ramesh Gupta Memorial Trust, which is located at Lucky Tower- 6th Floor, Tripreshowor, Kathmandu, Kumal's financial problem was taken seriously and the management decided to provide the financial assistance for the cancer treatment. Kumal's family got a new hope after that and immediately started the treatment. Currently, Sumit's treatment is going well and his doctor, Mr. Sudhir Sapkota (Kanti Bal Hospital) is taking special care of him. We all believe soon he will be able to get back to normal life. Now, it's just a matter of time.


Ramesh Gupta Memorial Trust is a non-profitable cancer organization in Nepal, working towards creating public awareness, providing emotional as well as financial aid to the economically challenged family.With the efforts of doctors, hospitals and Ramesh Gupta Memorial Trust Sumit like children and their families are getting new hope to fight against cancer.